Washington's Failure in Syria Is Not About Strategy
So much has been said about the Syrian conflict in numerous analyses, yet one of the least discussed topics concerns the strategy and the relationship of cooperation and conflict between the United States, Turkey, the Kurds and Daesh.
The situation continues to evolve in favor of Damascus in recent weeks. Aleppo is now surrounded and sealed off, signalling game over for the terrorist gangs in northern Syria. Washington, running out of options, promptly dumped its momentary Kurdish ally in favor of full military cooperation with Ankara. Erdogan, for his part, had meanwhile consolidated power thanks to the purge following the
failed military coup
, and juggled his options so that he could easily play the direct-military-intervention card in Syria with the advantage of multiple excuses.
The United States, supporting the Kurds, has forced Turkey to become the much-needed force in the battlefield, essential in occupying territories currently held by Daesh, and preventing Damascus from further conquering and unifying Syrian territory.
This is Washington's Plan B in the making, an old idea of ​​the dismemberment of Syria theorized by many Western think-tanks like the Brookings Institute and RAND Corporation. The chances of the plan being realizing remains unknown. Plan A failed miserably: Assad is still in power, and it is only a matter of time before the SAA and its allies finish liberating the rest of the country.
It remains to be seen how Daesh will react to the threat of losing their so-called capital, Raqqa, in favour of the same forces (Turkey and United States) that created and helped them rise from nothing. If ISIS/ISIL should decide to fight and not abandon the city, it would be a first for the international coalition and the Turkish army, finding themselves embroiled in the Syrian quagmire like never before. How would the people of Turkey and America react to their soldiers and special forces being killed, imprisoned or tortured? Would Erdogan and Obama still be able to justify the operation to the broader public?
The silence and proportional protests coming from Moscow in light of the Turkish incursion in Syria confirms these suspicions: territories reconquered from Ankara are not strategic; the Turkish force is numerically limited (hence the objectives), and the 'race' to Raqqa would probably cause more damage than gain for Erdogan and Obama. Moreover, the Arab Syrian Army has other strategic priorities to address and does not want to make the necessary countermeasures to arrive first at Raqqa.
Obama and Erdogan's bluff is all summed up in the last lines. Erdogan and Obama, in the efforts to free Raqqa and penetrate further into Syrian territory, hope to oblige Syrian forces to alleviate pressure on terrorist groups elsewhere in the country, especially in Aleppo, diverting troops towards the city of Raqqa. What we have been seeing in recent days are empty statements of small conquests by Turkish troops in Syrian territory, aimed at pushing Damascus to fall into the trap prepared by Washington and Ankara.
The clock is ticking, and it is all in the favour of Moscow, Damascus and Tehran, who observe the situation with relative calm. Their planned strategy is providing most of the desired results, and now America and its allies have only the ability to react to events on the ground, not to determine or create them. Compared to a few years ago, this is a resounding change. If Erdogan and Obama still will want to start doing the dirty work in Raqqa against the same terrorist group they instigated against Damascus, then they are free to do so.
All options available for Washington and its partners-in-terror will have negative effects on the fateful goal to undermine Syria. Raqqa is a Syrian city, inhabited by Syrians, and even if Ankara liberated it, it is never going to be incorporated into an imaginary Turkish territory.
Strategic contortions, moral contradictions, media deception, and the recent military defeats of terrorist groups have transformed Syria into a recipe for disaster for Washington, Ankara, Doha and Riyadh, from which there is no way out or path to victory.
[I'm not making a diagnosis, but as explained in the video posted yesterday by another physician - this is highly consistent with Parkinson's Disease]
...moments ago Fox News senior correspondent Rick Leventhal, citing an anonymous law enforcement official as a source, reported that Hillary Clinton who was present at the Sept 11 ceremony in downtown Manhattan, suffered a "medical episode" when she stumbled and nearly fell after her knees buckled, and was then ushered into a van, in the process losing a shoe, as she was rushed away from ground zero in an early departure.
BREAKING: law enf source: Hillary Clinton just left 9/11 ceremony w/medical episode, appeared to faint on way into van, helped by security
Source tells me Hillary Clinton "clearly having some type of medical episode" & had to be helped into van by her protective detail at WTC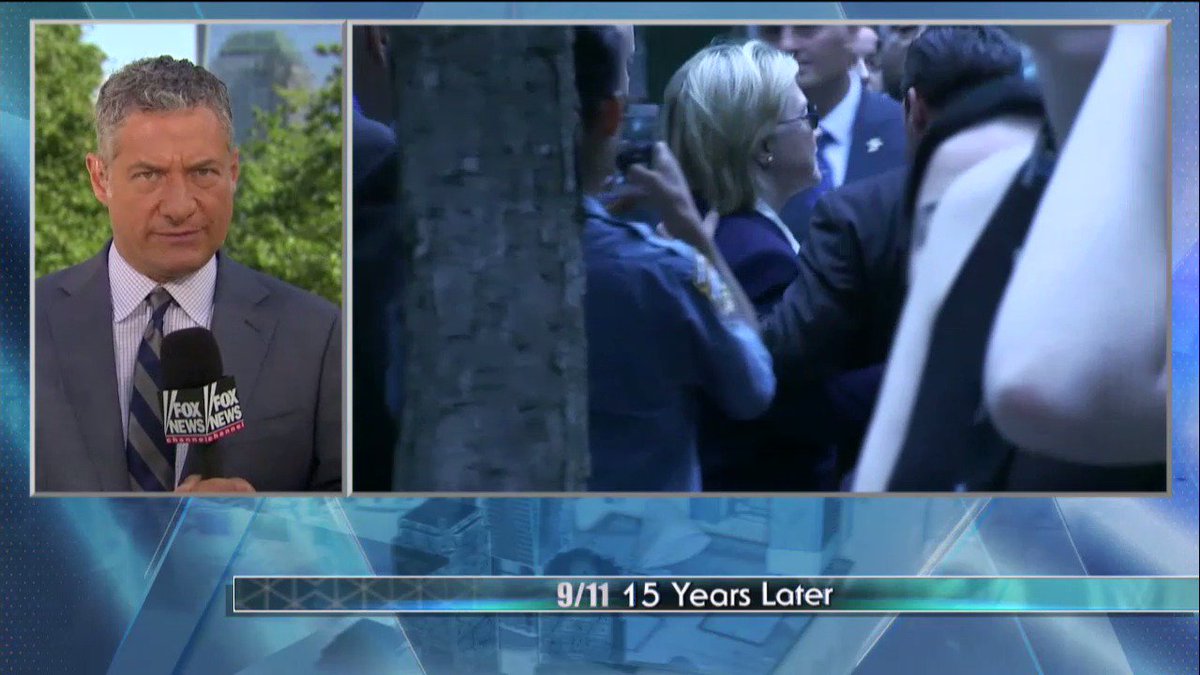 press pool is being kept in dark about HRC's whereabouts & campaign isn't responding to reqs for confirmation
Thanks to ABC we do know that Clinton left the Sept 11 ceremony about 45 minutes ago when the "medial incident"is said to have happened, however the press poll was not told to where, while aides are not responding to questions about her whereabouts.
Jim Hoft, aka "Gateway Pundit" tweeted moments ago that he does in fact have a video of Hillary's medical emergency and it will be posted soon.
Now this

video

from Mrs. Clinton's last public appearance yesterday is circulating among alternative media and various readers that

shows

a very fatigued

Hillary Clinton

who has to abruptly cut off her statements after standing on stage for about six minutes and then shuffle slowly away, coughing, and appearing to gasp for breath right before getting herself out of sight of the cameras: