Aftershocks rattle southwestern Japan after quake kills nine
Aftershocks rattled southwestern Japan on Friday after a strong quake the night before killed nine people, injured at least 1,000 and cut power and water across the region, forcing the temporary shutdown of several auto and electronics factories.
By afternoon, more than 130 aftershocks had hit the area around the city of Kumamoto in the wake of the initial 6.4 magnitude quake the night before. Officials said the frequency was tapering off but the risk of further strong aftershocks will remain for about a week.
While the magnitude of Thursday's quake was much lower than that of the 9.0 March 11, 2011 quake that touched off a massive tsunami and nuclear meltdowns at Fukushima, the intensity was similar because it struck on land and at a much shallower depth.
"We managed to huddle into a space, that's why we were saved," one man told NHK national television after he and his family were rescued from their collapsed house two hours after the quake hit. "We're all safe, that's what counts."
More than 44,000 people initially fled to schools and community centers, some spending the night outside after the first quake hit around 9:30 p.m.
Roads cracked, houses crumbled, and tiles cascaded from the roof of the 400-year-old Kumamoto Castle in the center of the city.
Among those pulled from the wreckage was an eight-month-old baby girl, wrapped in a blanket and passed hand to hand by firefighters. Several hospitals had to evacuate patients.
"There was a ka-boom and the whole house shook violently sideways," Takahiko Morita, a resident of the nerby town of Mashiki, told Japanese broadcaster NHK. "Furniture and bookshelves fell down, and books were all over the floor."
Authorities in Kumamoto said they were responding to numerous reports of collapsed houses, warning that there might be people trapped under the debris. The Kumamoto Red Cross Hospital said it has treated at least 45 people, including five suffering from serious injuries.
The epicentre was located only 120km northeast of the Sendai nuclear plant, but Japan's Chief Cabinet Secretary Yoshihide Suga said all nearby atomic facilities appeared unaffected. No tsunami alert was issued.
Images from the affected areas showed people evacuating buildings and pouring out into the streets that were in some parts covered by rubble of broken buildings. Other photos from
showed damage caused inside flats, stores and offices with overturned shelves and smashed bottles, dishes and glasses.
"Papers, files, flower vases and everything fell on the floor," Kasumi Nakamura, from the
village of Nishihara, he told NHK.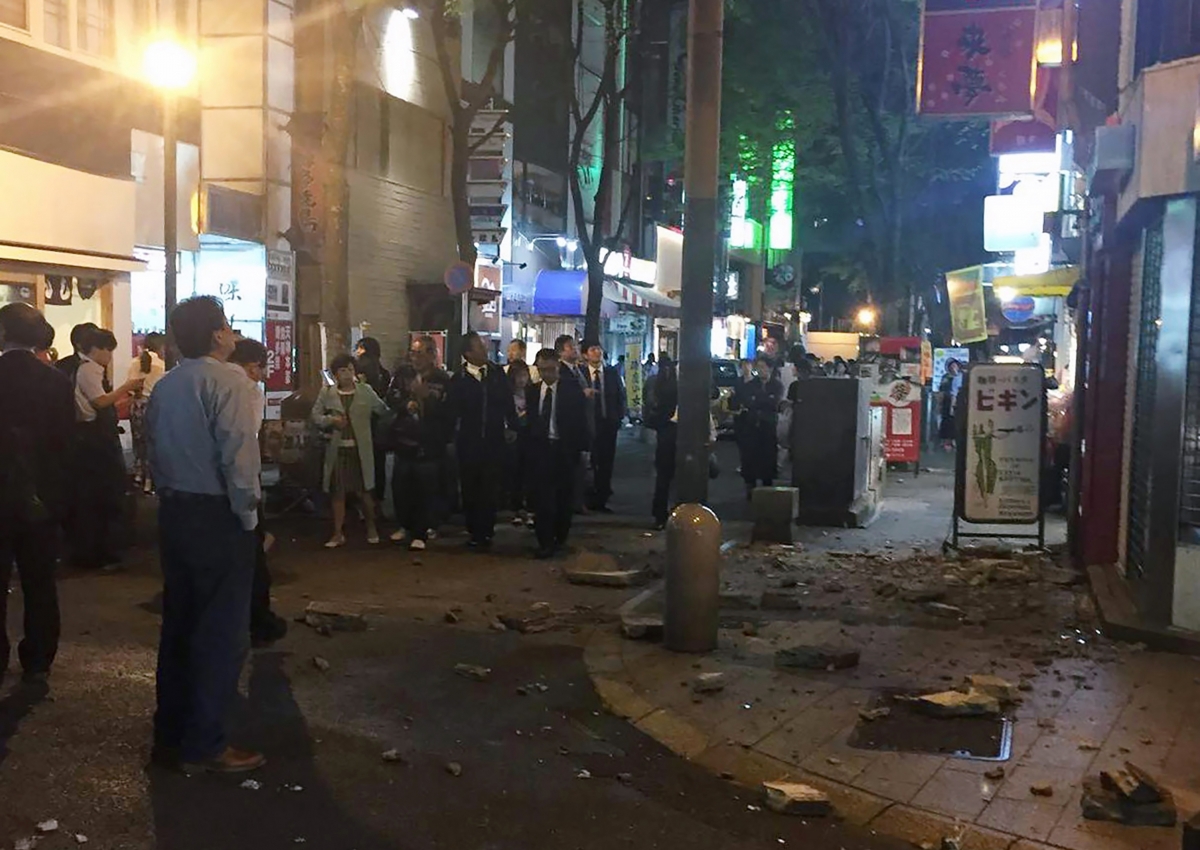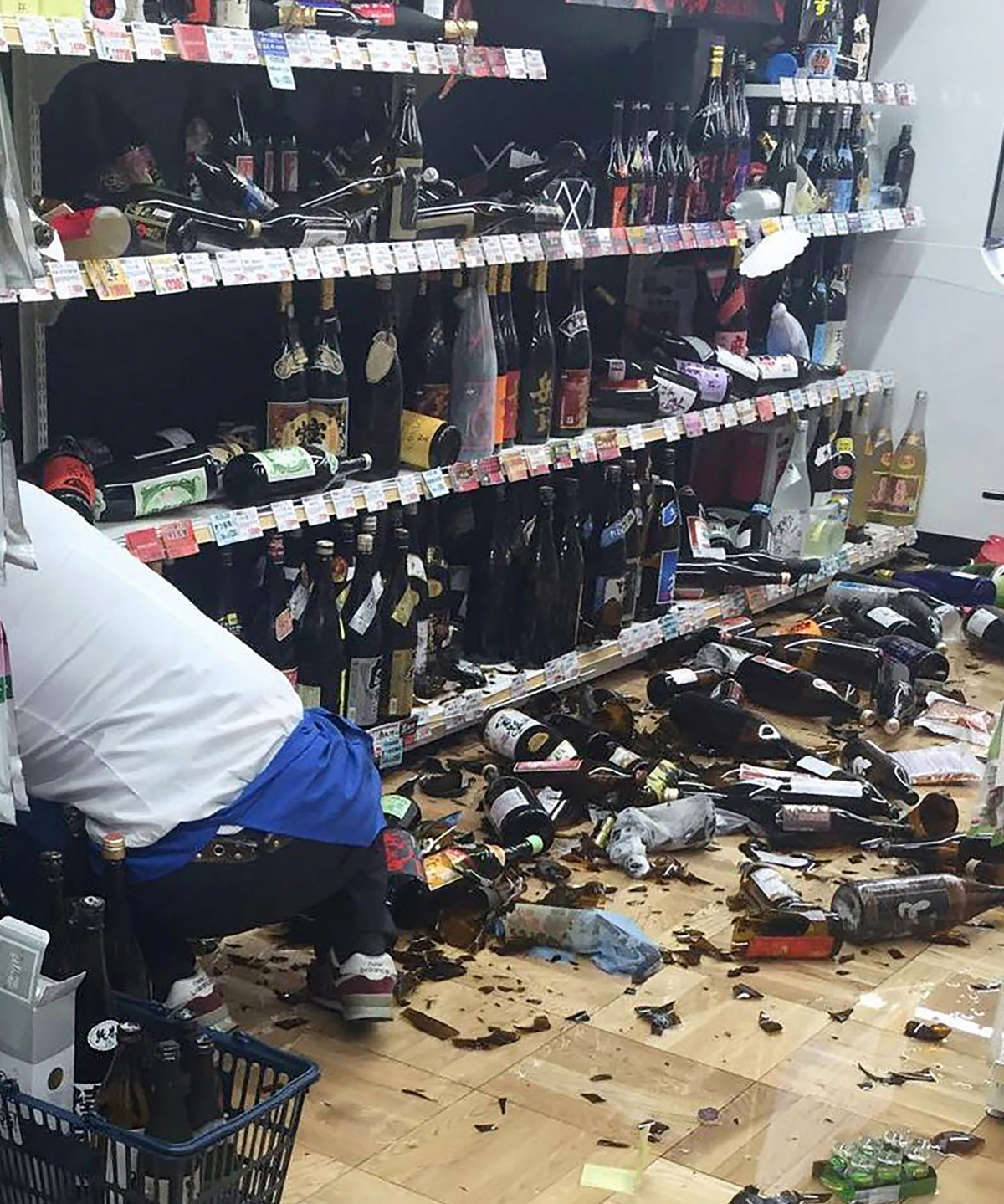 Rescuers searched through rubble for possible survivors Friday after a powerful earthquake in southern Japan left at least nine people dead and hundreds injured, though officials said the toll was unlikely to rise dramatically.
Tens of thousands of people fled their homes after the 6.5-magnitude quake struck the southwestern island of Kyushu on Thursday night, leaving lumps of broken concrete strewn in the streets.
Houses collapsed, factories stopped work and a high-speed train was derailed, while the roof of the treasured Kumamoto castle in the southern city of the same name was also damaged.
"The house shook up and down," said Nobuyuki Morita, 67, a resident of the worst hit town of Mashiki in Kumamoto prefecture, adding that he was watching TV at home when the quake struck.
"I was really surprised," he said. "I had never experienced such a big quake since I was born."
He and his wife spent the night in their car as the roof of their house had collapsed and furniture toppled over.
Dozens of aftershocks followed the quake, which hit about 9:26 pm (1226 GMT) on Thursday evening, and officials warned the death toll could rise as rescuers scoured the collapsed structures.
As rescue workers toiled through the night, an eight-month-old baby girl was pulled from the rubble alive and unharmed.
"As far as we can tell from infrared images from a police helicopter, there appears to be a significant number of houses destroyed or half-collapsed," said disaster minister Taro Kono.
Rescuers were concentrating their searches in Mashiki, near the epicentre of the quake where eight of the nine deaths occurred.
On the streets, the remains of collapsed Japanese-style houses -- many of then aged, wooden structures -- could be seen, and damaged roof tiles lay in piles.
A rescue team with several search dogs patrolled around half-collapsed houses in the town but no new deaths have been announced for more than 11 hours.
Scores of people spent the night huddled in front of Mashiki's town hall, some in tears, while others wrapped themselves in blankets to ward off the nighttime chill.
Gen Aoki, a Japan Meteorological Agency seismologist, urged residents to be on guard for more aftershocks and warned rain in coming days could make the situation worse.
About 24,900 households in Kumamoto prefecture have been left without water, according to the government, a big improvement from an earlier figure of about 57,000.
Nuclear plants in the region were unaffected, but several major manufacturers including Honda, Bridgestone, and Sony said they had suspended operations at factories in the area.
Train services on Kyushu were temporarily halted after the earthquake and a super fast bullet train derailed -- luckily while it was empty -- said Yusuke Nanri, a spokesman for operator JR Kyushu.
Bullet train services, however, remained suspended, JR said on its website.
Some 1,600 military personnel were joined by nearly 2,000 police officers and more than 1,300 firefighters to help in the search and rescue efforts, Suga said.
The initial quake, which struck at a shallow depth of 10 kilometres (6.2 miles), was followed two and a half hours later by another measuring 6.4 magnitude, according to Japan's meteorological agency. The US Geological Survey measured it a lower 6.2 magnitude.
In total, more than 130 tremors rocked the region after the first one hit, and officials warned this could continue for a week or so.
Japan, one of the most seismically active countries in the world, suffered a massive undersea quake on March 11, 2011 that sent a tsunami barrelling into the country's northeast coast.
Some 18,500 people were left dead or missing, and several nuclear reactors went into meltdown at the Fukushima plant in the worst atomic accident in a generation.