Israel Announces Sustained Strikes On Damascus; Syria Fires Back In Major Escalation
It's the first time that Israel has ever announced strikes against Iran inside Syria and in real time.
Moments after a massive wave of rockets were fired on Damascus, activating Syrian anti-air defenses Sunday night, the
Israeli Defense Forces (IDF) announced
:
"We have started striking Iranian Quds targets in Syrian territory. We warn the Syrian Armed Forces against attempting to harm Israeli forces or territory."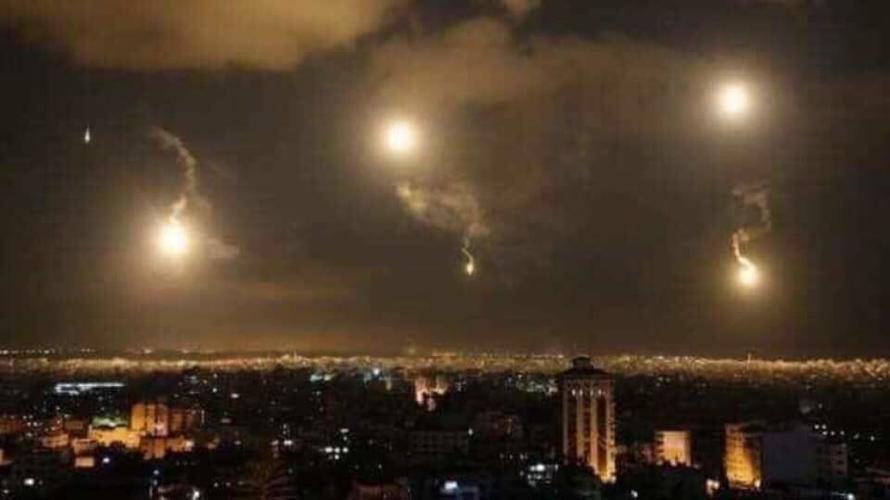 Sustained Israeli attack on Damascus overnight Sunday, via local Syrian sources.
This is unprecedented given that in every other among the dozens of prior recent Israeli attacks on Syria, the IDF has never acknowledged responsibility so quickly and certainly not while they are ongoing, usually declining to confirm or deny after the event.
We have started striking Iranian Quds targets in Syrian territory. We warn the Syrian Armed Forces against attempting to harm Israeli forces or territory.

— Israel Defense Forces (@IDF) January 20, 2019
Twelve hours prior the IDF said its Iron Dome Aerial Defense System intercepted a Syrian rocket fired into the northern Golan Heights after Israel launched a prior rare daylight raid on Syria on the "international airport, southwest of Damascus," according to Syrian military officials. In what marks a major escalation, it appears Damascus responded to that attack with what
Israeli media has called
an
"intentionally fired offensive surface-to-surface attack."
The Israeli intercept of that inbound Syrian surface-to-surface missile was caught on dramatic video, per
The Times of Israel
:
The interception of the incoming Syrian projectile was seen over Mount Hermon, Israel's tallest peak, which was full of visiting skiers, following a stormy period that dusted the mountain with snow.
Israel's Sunday night attack has involved dozens of strikes reportedly from F-16 jets flying over Lebanon targeting locations in and around southern Damascus. Syria's Pantsir and Buk air defense missile systems have reportedly shot down an unknown number of inbound Israeli rockets according to early unconfirmed video.
SyAAD is engaging enemy projectiles in Southern Syria.

We also have unconfirmed reports of Syrian Air Force first response squadron's participation.

pic.twitter.com/Dzp4IE0une

— maytham (@maytham956) January 20, 2019
Israel also reportedly launched multiple

cruise missiles

during the sustained assault. Local Syrians have described prolonged sustained explosions both overhead and on the ground, but it remains unclear how many Israeli rockets actually made it past Syrian defenses.
The IDF has
warned Syria not to respond
, which appears to be unheeded as Israeli media is
reporting that
anti-air defenses have been activated by inbound Syrian rockets over northern Israel and the Golan Heights
.
— Majd Fahd 🇸🇾 (@Syria_Protector) January 20, 2019
The Israeli Defense Forces (IDF) unleashed a massive attack on the Damascus countryside at 1:05 A.M. (local time), tonight, hitting a number of targets in and around the town of Al-Kisweh.

According to a military source, Israeli jets were first spotted over Jabal Sheikh-Golan Heights area; they would then fire several missiles towards Al-Kisweh.

The Syrian military then activated their air defense units, but were unable to stop all the missiles that were fired at the Damascus countryside.
The reported added, "The Israeli Air Force is now launching another wave of strikes on Damascus, with some reports claiming they are hitting targets near the Damascus International Airport."
Strikes appeared to have subsided an hour or more after they began, and are reported to have included in total over 40 rockets launched in four waves.
Israeli forces bombed targets belonging to Iran inside Syria early Monday morning, the Israel Defense Forces said in a statement, as tensions on the northern border continued to skyrocket.
The IDF said at 1:30 a.m. it was "striking Iranian Quds targets in Syrian territory," and warned Syrian forces not to intervene.
"The IDF warns the Syrian Armed Forces against attempting to harm Israeli territory or forces," the army said in an exceedingly rare statement.
The attack came less than a day after Israel reportedly carried out a rare daylight strike on targets near Damascus, sparking Syria to fire a retaliatory missile at Israel, and ratcheting up concerns of a wider confrontation between Israel and Iran in Syria.
Syria's state-run SANA news outlet claimed Monday morning that its air defenses had shot down a number of "hostile targets."
Videos posted online appeared to show Syrian air defense missiles being launched.
SANA claimed the strikes had come from the direction of Lebanese airspace and said explosion were heard near Damascus.
According to the Britain-based Syrian Observatory for Human Rights war monitor, the airstrikes tageted Iranian and Hezbollah warehouses at Damascus airport and other locations in the south and west of the capital.
The Quds Force is Iran's expeditionary unit inside the powerful Islamic Revolutionary Guards Corps, which Israel and others accuse of trying to gain a military foothold in Syria.
On Sunday, Syria shot a missile at Israeli territory, in apparent response to a rare daylight attack on targets in and around Damascus widely attributed to Israel.
Israel's air defenses managed to down the surface to surface missile before it reached Israeli airspace over the Golan Heights, according to the military.
Signaling fears of a fresh attack on Israel, the army announced it would shutter the Mount Hermon ski resort on Monday. On Sunday, the popular site had remained open despite the missile attack nearby.
The cross-border fire comes less than a week after IDF Chief of Staff Aviv Kohavi took office.
The IDF announcement regarding the strike Monday morning attack was nearly unprecedented, after years of maintaining a policy of strategic ambiguity regarding its air campaign against Iran gaining a military foothold in Syria.
Bombings inflict heavy damage on weapons warehouses and military positions near airport and other areas, with casualties reported; Syria calls attack 'heavy'
Massive Israeli airstrikes on Syria destroyed weapons stores and military positions belonging to Iran and the Lebanese Hezbollah terror group, a war monitor said Monday.
The Israeli military said early Monday it was carrying out strikes against Iran's Qud's Forces, in a rare statement on its military activities in Syria.
"The Israeli missiles managed to destroy weapons depots and military posts of the Iranians and the Lebanese Hezbollah in the vicinity of Damascus International Airport and the area of Al-Kiswah and Jamraya," the Britain-based Observatory for Human Rights said.
The monitor said there had been casualties and extensive damage, without providing details. A news site in the southern Syrian city of Suweida reported that eight soldiers had been brought to a local hospital with injuries sustained during the Israeli strikes, including two who died.
There was no immediate confirmation of casualties from Damascus. Syria's state-run media described the attack as "heavy" and said Israel had launched "consecutive waves of guided missiles." However, it claimed the majority of the missiles were shot down.
"Our air defenses responded effectively to an Israeli air attack targeting the southern region and prevented it from achieving any of its objectives,"SANA quoted a military source saying.
The airstrike was the second attack on the airport and al-Kiswah in as many days, after a rare daytime attack attributed to Israel on Sunday morning. Both locations have been attacked by Israel in the past and are thought to house Iranian or Hezbollah assets.
"Warehouses containing weapons for Syrian regime ally Hezbollah and Iranian fighters are located in that area," Rami Abdel Rahman, head of the Syrian Observatory for Human Rights war monitor, said Sunday.
The alleged strike Sunday came hours after a Syrian cargo plane touched down in the Damascus International Airport from Tehran, according to publicly available flight data. Israel and American defense officials have said these types of ostensibly civilian cargo planes are often used to transport advanced weaponry from Tehran to pro-Iranian militias, fighting in Syria, including the Hezbollah terror group.