Clocks Ticking On Colonial Pipeline Restart: "After 72 Hours... It Gets Really Tough"
While cyber-attacks have disrupted the operations of
other energy assets
in the U.S. in recent years. this weekend's theft of Colonial's data, coupled with the detonation of ransomware on the company's computers, is by far the
largest and most impactful
.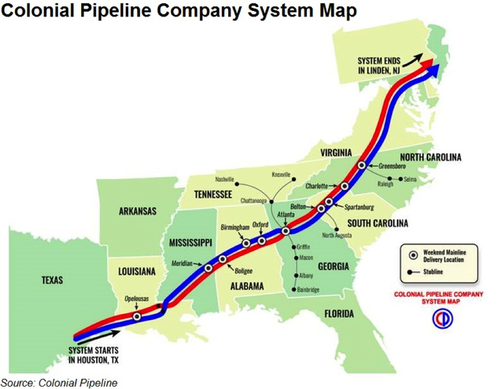 As we detailed earlier, the hackers who caused Colonial Pipeline to shut down the biggest U.S. gasoline pipeline on Friday began their blitz against the company a day earlier, stealing a large amount of data before locking computers with ransomware and demanding payment, according to people familiar with the matter.
Bloomberg reports that the intruders are part of a cybercrime gang called DarkSide, took nearly 100 gigabytes of data out of the Alpharetta, Georgia-based company's network in just two hours on Thursday, two people involved in Colonial's investigation said.
Aside from the inevitable sabre-rattling 'blame Russia' policy prescriptions that are likely imminent, the biggest concern for the 'average joe' American is - what will this do to gas prices?
The attack was on "the brains of the system," according to Niyo Pearson, an oil and gas adviser for Cynalytica, a cybersecurity firm. "It controls the settings on the pipeline, what the pressure is, remote operation of valves,"
And that means, as Bloomberg reports, trying to restart the flow of gasoline without that capability would require Colonial to send people to various facilities along the length of the pipeline, and the expertise needed to operate under those conditions is limited, he said.
A key concern at present is meeting product demand in the U.S. Southeast,
which is especially dependent on the Colonial system, people familiar with the situation said. The Northeast can secure gasoline shipments from Europe, they said, but it will come at an increasing cost the longer the pipeline stays shut.