Sweden Warns Every Household to Prep for WAR
The government of Sweden has produced a 20-page pamphlet which they'll be sending to each of the 4.8 million households in the country urging them to get prepared for…WAR.
Although they haven't been at war for over 200 years, for some reason, right now, they want their citizens to get prepped – and fast. This goes along with an article I wrote in January of 2018
when the government urged their people to be ready
to cope "without help" for at least a week.
Shortly before Christmas, the Swedish government quietly published a paper called "Resilience." Initially, the requirement had been for people to be prepared for 3 days without help, but it seems like that was a baby step. The government itself wants to be prepared for a 3-month long civil emergency and they're urging citizens to take responsibility, too.
It really makes you wonder what is looming ahead, doesn't it? (source)
This, however, is a direct approach, with the preparedness instructions delivered to their doors.
Here's what the government of Sweden is recommending.
The booklet, titled, If Crisis or War Comes, is an updated version of one distributed in the 1980s. It was compiled by the Swedish Civil Contingencies Agency (MSB) and references several potential crises that could occur, according to the Swedish media:
disruptions to IT systems
incidents occurring in the rest of the world
climate change
increased tension in the Baltic region
The brochure warns Swedes of things that every prepper knows. "In the event of a societal emergency, help will be provided first to those who need it most. The majority must be prepared to cope on their own for some time." Here's what Swedish website The Local has to say about the warnings.
"Water, food and warmth" as well as an ability to obtain information from authorities are the most important things in such a scenario.
The guide provides a checklist of foodstuffs and goods it's useful to have at home just in case, ranging from basic vegetables to long-lasting oat or soy milk, tinned protein like sardines or boiled meat, and items for providing warmth, access to communications, and for storing water.
The booklet also has a checklist to help Swedes be better prepared to cope with misleading information and influence operations, noting that "the best protection against false information and hostile propaganda is to critically appraise the source" by asking questions like "is this factual information or opinion?" and "who has put this out?".
"We all have a responsibility for our country's safety and preparedness, so it's important for everyone to also have knowledge on how we can contribute if something serious occurs," MSB General Director Dan Eliasson said in a statement.
"Sweden is safer than many other countries but threats exist." (source)
Supply checklists are included, with suggestions for stocking up on things like mineral water, wet wipes, and tinned hummus. There are directions to bomb shelters, as well as instructions for what to do if ATMs, cellphones or the internet stop working.
Sweden urged citizens to be prepared to defend their country.
The preparedness brochure also reminds citizens of the possibility of conscription (the draft) for anyone between the ages of 16 and 70, because everyone has "duty to contribute to total defence."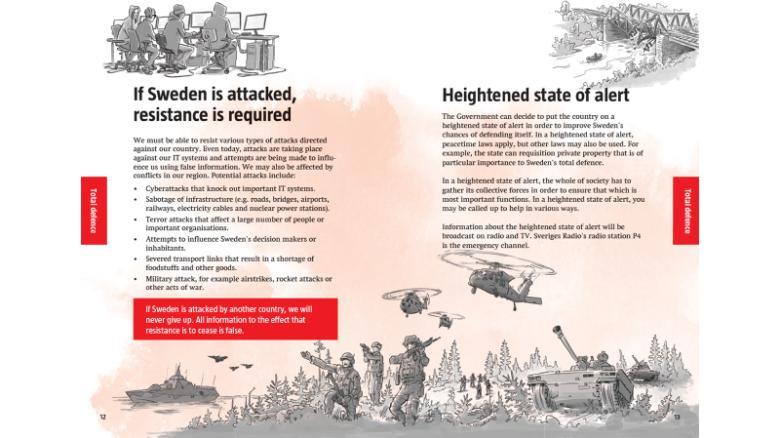 The mention of propaganda is repeated in this section.
"If Sweden is attacked by another country, we will never give up. All information to the effect that resistance is to cease is false." (source)
But speaking of propaganda, there's no mention of the unchecked immigration that has turned parts of major cities into war zones. Is it possible that the war of which they're warning could be a civil one?
An influx of asylum seekers from the Middle East and Africa has strained the welfare system and the criminal justice system.
The crime in Malmo and Stockholm has skyrocketed. You can read about it in these articles:
Violence against women has also increased dramatically.
Could it be that the real enemies are already within Sweden? Whether their worry is the Russians, the refugees, or some other threat, one thing is certain.
Sweden is getting ready for battle and we all need to pay attention.