Yellow Vest Violence Erupts Again, Spreads To Libya; 137 Arrested
More clashes broke out on Saturday between Gilets Jaunes (Yellow Vest) protesters and French riot police during the 23rd straight week of protests across France. Police had arrested 137 protesters by 15:40 CEST (3:40 PM local time), according to
Euro News
.
Authorities warned that they expected the protests to be more violent following the catastrophic fire at Notre-Dame Cathedral on Monday. Some demonstrators took issue with the approximately 1 billion euros ($1.12 billion) pledged so far to restore the landmark by some of the country's wealthiest families, including the owners of luxury groups LVMH and Kering, the Bettencourt family behind the L'Oreal beauty empire, and scores of companies such as BNP, Total, Société Générale and Sanofi, according to
Euro News.
Several demonstrators clearly alluded to the catastrophic fire at Notre-Dame cathedral on Monday
, which prompted an outpouring of national sorrow and a rush by rich families and corporations to pledge around 1 billion euros ($1.12 billion) for its reconstruction.
"
Millions for Notre-Dame, what about for us, the poor?
" read a sign worn by a demonstrator. "
Everything for Notre-Dame, nothing for the miserables,
" read another sign that evoked Victor Hugo's well-known novel. -
Reuters
The police siad that
"violent groups have formed in the procession,"
and asked that nonviolent Yellow Vests
"disassociate yourself from these groups, let law enforcement and emergency services intervene."
A security perimeter will remain around Notre-Dame until Monday, while some 60,000 police officers were deployed across the country.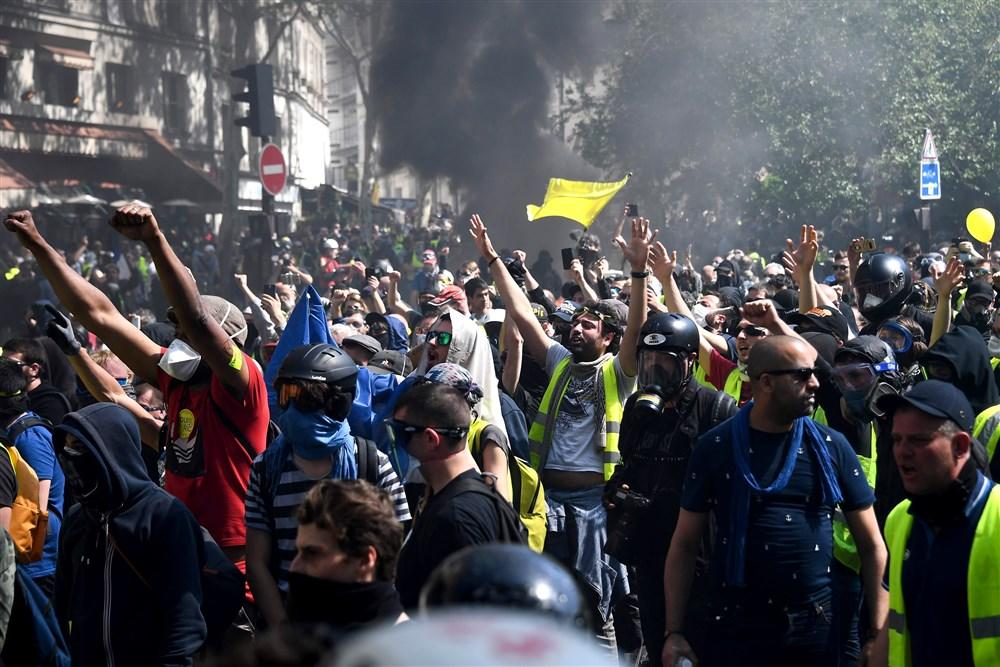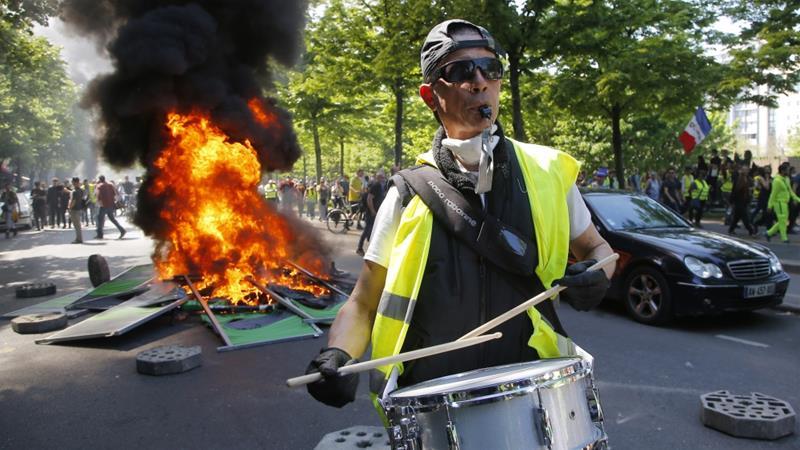 While Paris Yellow Vests marked Saturday with more fires and clashes with police,
hundreds of their counterparts in Tripoli, Libya came out on Friday to protest an offensive military campaign by strongman Khalifa Haftar on the Libyan capital
. -
accusing France and Macron of backing him
, according to
TheLocal
.