Kremlin: USA prepares a war and Russia is preparing for it
The U.S. is "preparing a war," said the deputy head of the Department of Nonproliferation and Arms Control of the Russian Foreign Ministry Andrei Belousov at the UN General Assembly.
According to him, Washington recently accused Russia of preparing a war. But, as Belousov stressed, Russian citizens are preparing to defend their homeland, its territorial integrity, its principles and people.
Moscow and the United States have significant differences in this matter, he noted, including "in the linguistic sense". "This difference lies in just one word, that both in Russian and in English: the Russian Federation is preparing for a war, and the United States is preparing a war," RIA Novosti quotes Belousov as saying.
"Otherwise, why would the United States withdraw from the treaty, build up its nuclear potential and adopt a new nuclear doctrine?" Belousov added
Belousov also accused the UN General Assembly of falling to consider the draft resolution submitted by Russia which aimed to protect the Intermediate-Range Nuclear Forces Treaty.
On Sunday, October 21, during his speech in front of his supporters in Nevada, Trump announced that he wants to leave the
Intermediate-Range Nuclear Forces Treaty Treaty
. "We will not allow anyone to violate the terms of this agreement," he said. Russia and the United States
periodically accuse
each other of violating this agreement.
In response to Trump's words, the Russian Foreign Ministry said that Moscow is ready to respond to Trump's threat of withdrawing from the agreement. Deputy Foreign Minister Sergei Ryabkov explained that Russia is prepared to respond if Washington continues to withdraw from agreements and arrangements unilaterally. He added that measures against the U.S. could be "of a military-technical nature."
Andrei Belousov, deputy head of the Department of Nonproliferation and Arms Control at the Russian Foreign Minister, raised concerns over potential future conflict between the US and Russia, stating that Moscow will defend its territorial integrity and principles in response to US aggression.
Mr Belousov made his remarks after the First Committee of the UN General Assembly voted against a draft resolution to the INF proposed by Russia in support of the treaty.
He said: "Here recently at the meeting, the United States said that Russia is preparing for war.
"Yes, Russia is preparing for war, I have confirmed it.
"We are preparing to defend our homeland, our territorial integrity, our principles, our values, our people - we are preparing for such a war."
However, Mr Belousov underlined that Russia was merely defending itself against increasing threats, and accused the US of being the catalyst of aggression.
He said: "Linguistically, this difference is in just one word, both in Russian and in English; Russia is preparing for war, and the US is preparing a war.
"Otherwise, why would the United States withdraw from the treaty, build up its nuclear potential and adopt a new nuclear doctrine?"
He also took aim at the UN General Assembly for refusing to hear Russia's draft resolution to the INF, which was aimed at protecting the landmark treaty.
The Russian official warned that if the US does withdraw from the treaty, the world will witness increasing danger and instability.
He concluded: "If the United States comes out of the treaty and starts building up its nuclear potential in an uncontrolled manner, we will face another reality."
The INF Treaty was established in 1987 between the leader of the Soviet Union Mikhail Gorbachev and US President Ronald Reagan at the height of the Cold War.
About 72 hours ago, Subscribers to this web site were given COVERT INTELLIGENCE from the meeting (just days earlier) between Russian President Vladimir Putin and US National Security Adviser John Bolton. That story (
HERE
) reported that Putin delivered an actual WARNING to Bolton about certain things taking place inside Syria, involving the US. Those certain things had to stop or else Russia would begin doing certain other things.
Putin also informed Bolton that the warning would be personally delivered from President Putin to President Trump when the two world leaders meet in Paris on November 11. Once the Russians know that President Trump has actually been told, "this will be the final warning."
Bolton responded that if Russia undertakes the actions they threatened, "it would mean war between the US and Russia" to which Putin allegedly responded "It looks like things are heading in that direction anyway."
On Friday at the United Nations, Russian Diplomat Andrey Belousov, deputy director of the Russian Foreign Ministry's Department of Nonproliferation and Arms Control, stated it plainly: "Yes, Russia is preparing for war, I can confirm it", Belousov said adding that "We are preparing to defend our homeland, our territorial integrity, our principles, our values, our people."
Russia's military build-up and large-scale drills, which have often been painted in the Western media as preparations for all-out war, are a defensive necessity, he said.
Russia doesn't seek a confrontation, he said, unlike the US. "Why else would the United States pull out of the [INF] Treaty, increase their nuclear potential, adopt a new nuclear doctrine that lowers the threshold for nuclear weapons use – that's the question for us all."
Belousov's words came after a Russian draft resolution to reinforce the INF Treaty, which bans intermediate-range nuclear weapons, was overwhelmingly rejected at the UN First Committee.
"Most of those who voted against were supporters of the INF Treaty. I don't understand their position," Belousov said. Among those who voted down the draft were the UK, Germany, France, and, of course, the US.
Trump's decision to scrap the Cold War-era agreement has alarmed both Europe and Moscow, which warned it would "make the world a more dangerous place" and vowed retaliation.
Washington has accused Russia of building missiles prohibited by the INF, while Moscow argued that American missile defense complexes in Europe can be easily turned into offensive weapons. Russian President Vladimir Putin warned that if the US moves to deploy intermediate-range nuclear missiles in Europe, it will put the whole of Europe at risk of a retaliatory strike. Europe will become a battlefield.
While the INF Treaty is the now-discussed big deal of the day, it is NOT the INF Treaty that will kick things off to war; it is what's happening in Syria that will START it. Likely on or shortly after November 11.
WORSE - President Putin, speaking about ongoing activities in Europe by the US and NATO, said forthrightly that Europe will become a battleground!
Turns out he was exactly right.
The United States Air Force has shipped about 100 munition containers into its Europe and Africa headquarters in Ramstein, Germany, making it the biggest shipment since the 1999 NATO bombing campaign in Yugoslavia, according to an official Air Force statement.
Ramstein base 86th Munitions Operations chief Sgt. David Head said the record October shipment "will be used for future theater operations and the evolving US European Command presence," adding that the move aims to "support NATO's European Deterrence Initiative (EDI) and augment the Air Force's War Reserve Materiel in Europe".
The statement elaborated that the EDI is a plan seeking to "increase responsiveness and readiness by pre-positioning ammunition, fuel and equipment to enhance the U.S. Department of Defense's ability to provide a rapid response against threats made by aggressive actors."
The Ramstein base is located in south western Germany and has been operating since 1953 as an American and NATO air force headquarters. It has been known to have been previously housing some of the US's Europe-based nuclear arsenal and is also reportedly a vital drone operation and air transportation center for the US Air Force across the globe.
No official response has yet been made by any European or Russian official concerning the large shipment. Russian analysts, however, see it as a clear indication of adding tension in the continent.
"This is an indicator, a sign that Americans seriously consider the possibility of war in Europe. Consequently, they have started building up military arsenals...There is only one opponent here - the Russian Federation," explained editor-in-chief of the "National Defense" magazine Igor Korotchenko speaking to the Russia TASS News Agency.
Editor-in-chief of the Arsenal of the Fatherland magazine Viktor Murakhovsky believes the move is part of Operation Atlantic Resolve, a wide range of activities seeking to modernize NATO military infrastructure, specifically in Eastern Europe in response to what is described as "Russian action" in Ukraine.
"The plan envisages deploying 30 land battalions, 30 air fighter squadrons and 30 ships at NATO's 'eastern flank' within 30 days. Thus, they are creating not only infrastructure, but also stocking up ammunition, fuel and so on. This what they are doing now," he added.
Tensions have been recently heightening between the US, NATO and Russia as the North Atlantic Alliance has deployed tens of thousands of troops on Russia's western border in Norway as part of ongoing
military drills
.
Furthermore, US President Donald Trump announced last week that Washington plans to withdraw from the Intermediate-Range Nuclear Forces Treaty (INF) with Russia, a move that has been severely denounced by Moscow.
The situation is growing so dire that back on September 15, Russia began shipping trainloads of TANKS to their western border areas. Hundreds of (very old) T-62 tanks were shipped on a total of three trains, toward Europe, just short of the Ukraine border.
It is known that trains with T-62 tanks were first seen in the Volgograd region of Russia, near the border with Rostov, and eventually in Rostov, near the border with uncontrolled Ukrainian government in the Donetsk and Luhansk regions.
Even Russians on Social media began talking about what's taking place: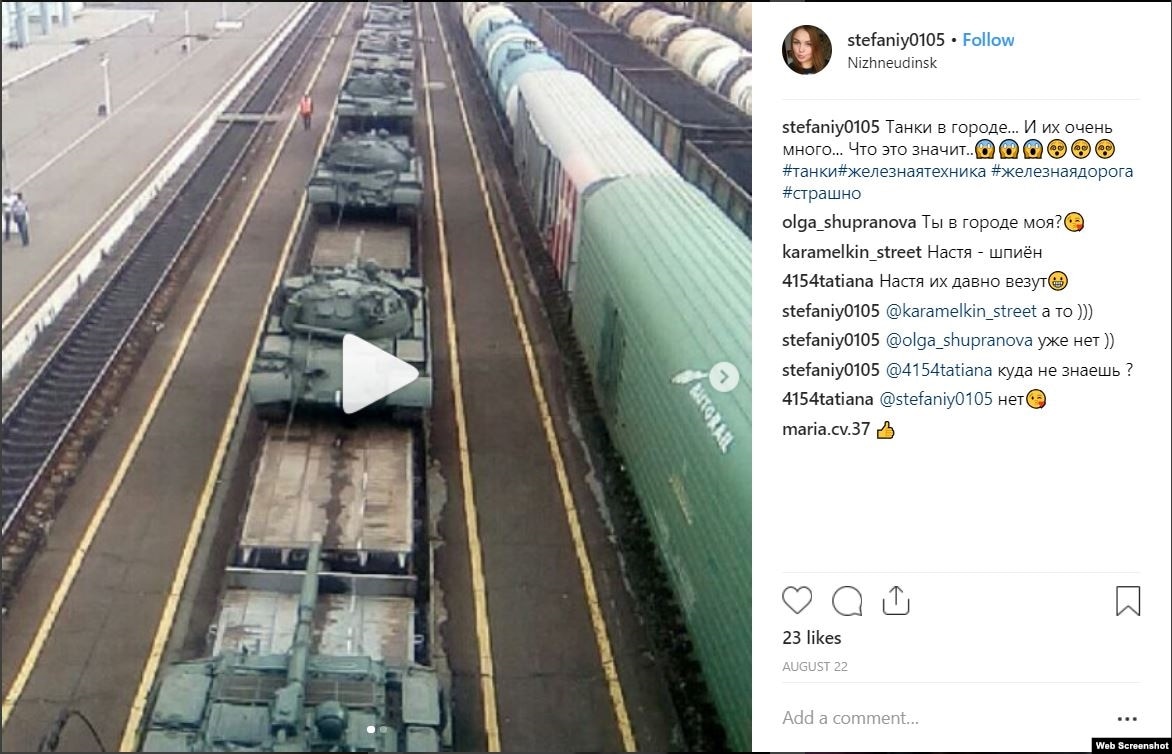 Yet another trainload of T-62Ms in Kamensk-Shakhtinsky, Rostov Oblast. 19th of September. Note pale green color. Geolocated at 48.328927, 40.258952 (same location as with previous "white barrel stripes" T-62M train on 15th)
After the trainloads of T-62's, then images began surfacing of flatbed tractor trailers carrying the much more advanced T-72 main battle tanks in suburbs outside St. Petersburg, Russia. Here are photos of the far more advanced tanks, on flatbeds: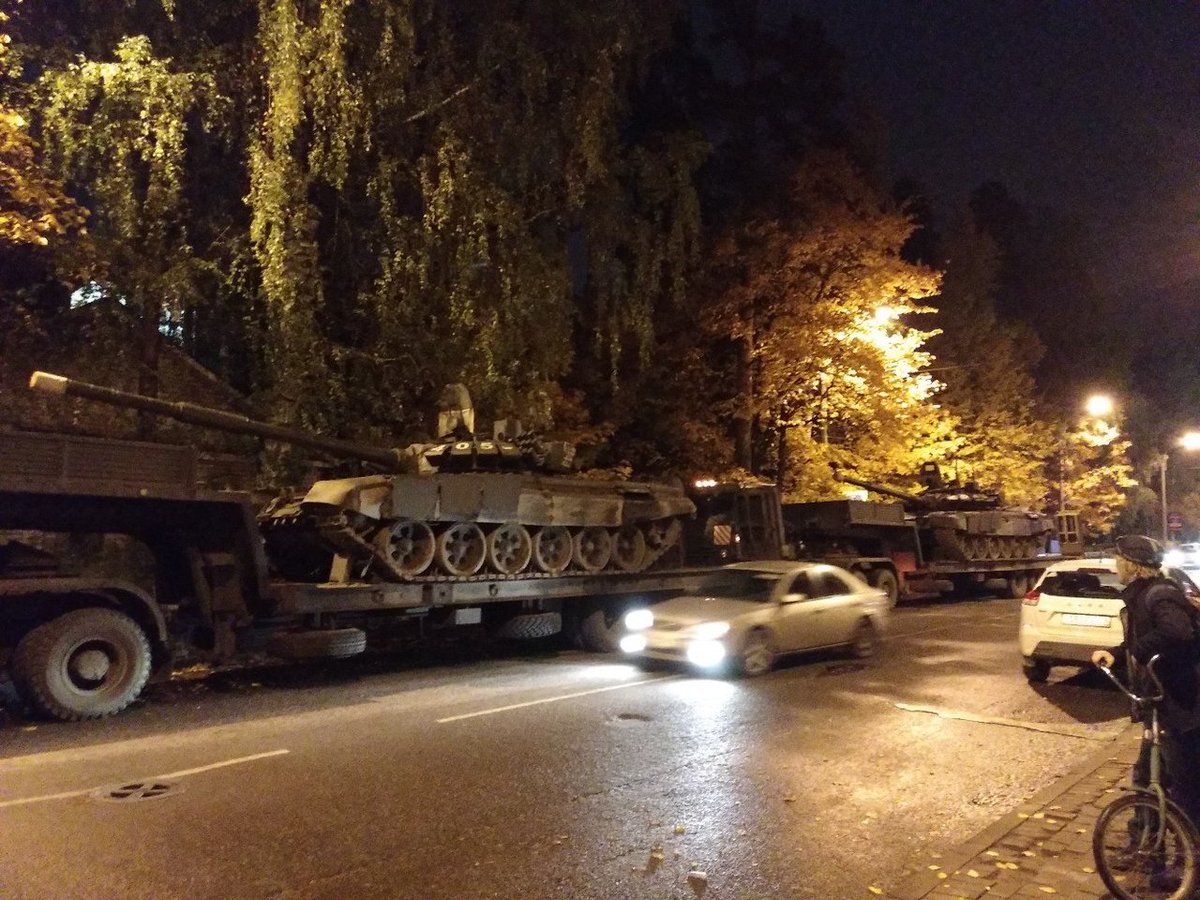 The US and NATO then began drills in Norway and now, in Finland, and just a week ago, the US sent an aircraft carrier battle group into the Arctic Circle for the first time in about 30 years. They sent the USS Harry Truman to be within striking range of Russia's Northern Fleet HQ!
For the first time in nearly 30 years, a U.S. aircraft carrier entered the Arctic Circle Oct. 19 to conduct operations in the Norwegian Sea.
Accompanied by select ships from Carrier Strike Group Eight (CSG-8), the Nimitz-class aircraft carrier USS Harry S. Truman (CVN 75) traveled north to demonstrate the flexibility and toughness of U.S. naval forces through high-end warfare training with regional allies and partners. USS America (CV 66) was the last ship to operate in the area, participating in NATO exercise North Star in September 1991.
"We are unbelievably excited to be operating in the Norwegian Sea," said Harry S. Truman Commanding Officer, Capt. Nick Dienna. "It has been over three decades since carrier aviation has been tested by this environment, and, despite the arduous weather and sea conditions, these men and women are demonstrating this ship can bring a full-spectrum of capabilities to bear anywhere in the world."
The Harry S. Truman Carrier Strike Group (HSTCSG) will expand its compliment of capabilities off the coast of Norway, performing air, surface and subsurface operations while being confronted by the trio of freezing temperatures, fierce winds, and unpredictable seas. After honing its skills independently, HSTCSG will join 30 NATO allies and partner nations to participate in Trident Juncture 2018.
Step-by-Step, the US and NATO are moving equipment and men toward a confrontation with Russia.
It's been going on for months
, very slowly and very quietly.